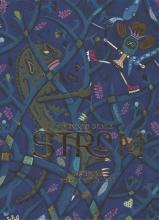 Publisher:
Literárne a informačné centrum
A tree in the middle of a bleak ochre wasteland. And his guardian with the strange name of Blöeglöek, who would have bled his last drop of blood for him. And a Princess who had everything.
An allegorical tale of human short-sightedness and greed, but also of the determination to turn bad into good and save this world, opens up both an adventurous and an ecological and philosophical level. For pre-school and school-age children, but also for adults. The witty and fresh text is complemented by the creative illustrations of Martina Matlovičová, winner of the Golden Apple at the Biennial of Illustrations Bratislava.
The book was awarded the Best and the Most Beautiful Children's Book of Autumn 2020 (awarded by BIBIANA, the International House of Art for Children, the Slovak Section of IBBY).