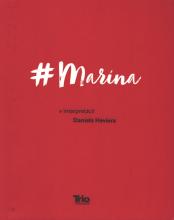 Illustrator:
, visual materials and graphical elements: Adobe Stock, Miriam Horňáková and archives
Publisher:
TRIO Publishing, s. r. o.
Marína, the legendary love poem by Andrej Sládkovič from the 19th century, is known by its name by perhaps every Slovak, but few people know what is hidden behind this hashtag. The poet Daniel Hevier's intention was to read Marína with today's eyes (and heart), to select from it the stanzas that are the most emblematic for its understanding and to approach the composition with means of expression close to today's youth: interpretation, design, vocabulary, humorously arranged historical photographs and illustrative graphic elements... Perhaps in this way it will be possible to pass on Marína not only as a mere hashtag, but as a full-blooded work of art to future generations.
The book was awarded the Best Children's Book of Winter 2020 (awarded by BIBIANA, the International House of Art for Children, the Slovak Section of IBBY).