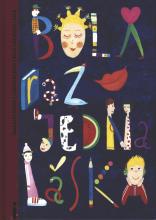 Title in English:
Once Upon a Time There Was a Love
The second edition of a poetry collection for younger and older children about Love. Love as an omnipresent and necessary element for everyday life. The author of literature for children and young adults Valentín Šefčík is known for his linguistic playfulness, which he uses judiciously and very functionally. Šefčík's poetry has a latent dimension of responsibility towards life encoded in it, it is imaginative, delicate and at the same time playful and witty, but it also has its serious and melancholic positions. It looks at the world from a point of view that is close to that of children of just pre-teenage and early teenage age.
The book won an award in the Most Beautiful Books of Slovakia 2015 competition.