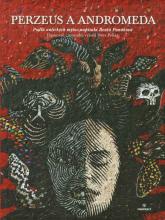 The sixth story in the Edícia Múzy edition, written for children based on ancient myths – about the fate of Prince Perseus.  Bravery, wisdom and love give a man the strength to face adversity and become a true hero. The magnificent journey symbolizes a life journey during which the hero triumphs over powerful enemies, wins a beautiful and noble bride, as well as what rightfully belongs to him – the royal title.
The essayistic part of the book sets the story in the broader context of Greek mythology. The experience is enhanced by original illustrations – mosaics by Peter Pollág, which tell timeless themes.
The book was awarded the Best Children's Book of Autumn 2020 (awarded by BIBIANA, the International House of Art for Children, the Slovak Section of IBBY).