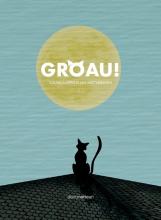 In this book we can see the initiation journey of the cat Mitsi, the protagonist of the story. A cat that instead of making "meow" makes "Groau", as the title indicates. A cat that will change as the story progresses, both physically and psychically, both in body and pronunciation. From being small, weak and lacking in self-confidence, he will become strong, brave and we will see someone who, willingly or unwillingly, is also a hero.
Yolanda Arrieta skillfully uses the structure of theatre. It is a play divided into three scenes. The first, at home, to pose the problem; the second, in the forest, on the initiatory path; the third, finally, the return home that gives a happy ending to the play. The characters are few and well characterized with actions and few words, to facilitate the work of the reader and spectator.
But, besides that, Arrieta also uses songs, voice-over, famous phrases and music so that, in addition to reading the play, it can be imagined. To act it out, even if it is inside the mind.