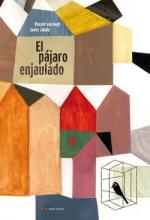 A personal recreation of Javier Zabala of one of the six hundred letters Vincent van Gogh wrote to his brother Teo nearly twenty years.
Crying, with an almost poetic text, by the freedom. Not only physical liberty can fly, move from one place to another at will, but the spiritual, thinking, that sometimes hard for us to get or understand both in oneself and others and justify their absence with false reasons.
Javier Zabala has illustrated with grandeur this poetry and has accomplished a great work. It is the bet publishing project, a suggestive and attractive design and a quality paper showing textures and colors in all their glory.