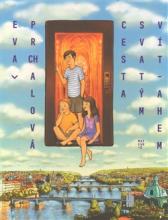 Title in English:
The Ride in a Magic Lift(us)
Two brothers, always in a scuffle. Elder Amos and his small plump brother William. Summer holiday in a big city. What are they going to do with so much time? Telly watching, fist fights, pool frolic with a new friend Arna? What else?
One day the super modern passenger lift in the boys' house passes through the ground floor without stopping. It doesn't stop in the basement either, it rather keeps going further down… Against the logic and despite the laws of physics, the magic lift, which the kids nickname Vitus-Liftus, takes them to a new adventurous world, a fantastic place where Vitus, young saint from Sicily and patron of Bohemia and Prague, plays a key role. The cathedral nobly rising above the city is dedicated to him, and it is no coincidence. Let's set off on an exciting journey with Amos and William (following Arna's footsteps) and explore the amazing world behind the sliding door!