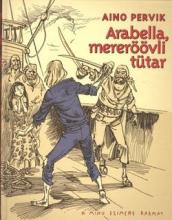 Title in English:
Arabella, the Pirate's Daughter
Arabella is a sweet little 9-year-old girl, whose father is the famous pirate captain Daniel Trigger, and whose home is a pirate ship. Daniel loves his daughter more than anything, but Arabella lives in constant fear of losing her father. Pirates are brutal and greedy; their favorite occupation, apart from carousing in the tavern, is to sail to their horde stashed on a remote island – to admire the gold and jewels they have stolen, and share the wealth that belonged to their dead shipmates. This last fact is the cause of so many pirates dying at the hands of their comrades. Sailors kidnapped from ships boost the thinning ranks of pirates, and only the strongest and cruelest survive. When the wandering shipwrecked philosopher Hassan comes aboard their ship, they want to kill him straight away. But Arabella buys him for herself, for the price of one very precious pearl. Hassan becomes the girl's friend and spiritual guide, helping her to resist evil. They have long discussions about good and evil, life and death. As the daughter of a pirate chief, Arabella is a valuable hostage, and she is kidnapped by another band of pirates. Only Hassan is prepared to risk his life to rescue the girl from her captors. Under Hassan's influence, Daniel at last also begins to regret his misspent life, and destroys the evil within it, blowing up both his own ship and that of his rival pirate captain. Arabella finds a home with some kind gypsies, and looks forward to fulfilling her greatest dream – to be a good mother to many children.
Arabella, the Pirate's Daughter was first published in 1982. In 2004 Aino Pervik was nominated for IBBY Honor List.