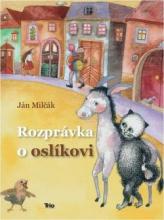 Title in English:
A Tale of a Little Donkey
Series:
Analfabeta Negramotná/Čítame s porozumením
In the eastern part of Slovakia there is an old beautiful city. People enjoy living there very much. There is a beautiful park, colourful historical buidlings. Old benches remind us of how friendly conversation among people used to be. A story of friendship, mutual help, a gossipy sparrow, Kilimanjaro's friend Frederika, monkey-clown, the girl named Dorotka with the hump, and especially a donkey, that was painted and revived from the white canvas. Together they try to save joy, so it won't be stolen by the greedy thieves. The book was awarded as The Most Beautiful and The Best Children's Book of the Summer 2012 and is part of the project Analphabeth Illiterate/ Reading with Comprehension.