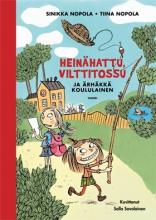 Title in English:
'Heyflower, Quiltshoe and the feisty schoolkid
Series:
Heinähattu ja Vilttitossu
Heinähattu, Vilttitossu ja ärhäkkä koululainen ('Heyflower, Quiltshoe and the feisty schoolkid') is a story about two sisters, Heyflower and Quiltshoe. The book tells a humoristic story about two sisters and what happens when the older one's school path begins. While Heyflower goes to school, meets new friends, gets homework and everything is interesting and wonderful, Quiltshoe still stays at home and wants to play. But her sister has no time anymore, and Quiltshoe feels lonely. Therefore, when Heyflower tells about a class fishing trip, Quiltshoe gets angry. She asks their neighbor to help her to write a letter telling that the fishing trip has been canceled. On the next morning, Heyflower stays home – but Quiltshoe has disguised herself as her sister and goes to the class fishing trip. When Heyflower finds out, she decides to go also, and the mix-up is ready. The novel discusses the sisters' situation with warmth and understanding. The authors have been writing this popular series about Heyflower and Quiltshoe since 1989.