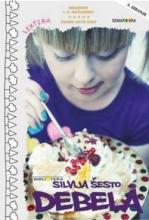 Series:
Biblioteka Žuta. Lektira.
This book is a sort of diary, not a classic diary, but a kind of monologue using the whole town in which it occurs as a stage. Lada, the heroine, talks to us freely and spontaneously, and she uses words to create her universe of small events, doubts and wishes, dreams and insecurities – her everyday life. Lada is fifteen and is concerned with typical teenage problems: complicated friendship, her family's peculiarities, dreams of love, cigarettes and alcohol and above all her looks and her weight. Many things happen around Lada: friends come and go, she experiences her first kiss, her best friends's mother leaves the family, her brother's girlfriend has an abortion. But she stays the same – a bit frustrated – but cheerful, sparkling with humour and true to life.
Silvija Šesto was born in Zagreb in 1962. She has written and published since her college days. She writes poetry, prose, drama as well as texts for radio and TV advertisements. Her most important books are Vanda and Debela for teenagers and Bum Tomica for children. Fluent narration, lively rhythm and a talent for everyday detail characterize her writing. Debela was awarded the Ivana Brlić Mažuranić Prize, the only Croatian award for unpublished texts for children.