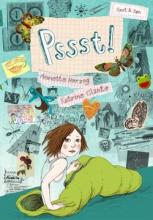 Who am I really? Could I have been someone else? Where was I before I was born, and where will I be when I die?
Would I still be myself if I was born somewhere else? If I had blond hair?  If I went in another class?
Pssst explores  life's small and big questions as they present themselves for 12 years old Viola.
 A poetic exploration of identity for a girl of our time and  a graphic novel with a complex interplay between text and illustrations.