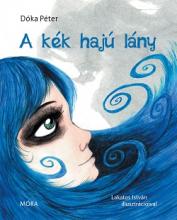 The setting is a hospital. The main protagonist is Oliver, who falls off a tree and fractures his arm and ribs, but does not suffer more serious injuries. In the hospital ward he meets children with lives very different from his own, but what is much more exciting, while he is having lunch, a girl shows up. She is in a wheelchair and has blue hair, and Oliver can't think about anyone else but her.
Simple but lyrical, the book is an adolescent love story on whose every page there hovers the oppressive shadow of sickness and death. Love and death - the protagonist, who is weighed down by the search for identity typical of puberty, must also grapple with this two aspects of life. The text is strong and focused, and relies often and with a sure hand on the empathy of children. It does not offer a recipe for living through problems and surviving them, it does not provide a didactic ending. It gives, instead, sufficient space for young readers to imagine the unfolding, each according to his or her personality. Instead of explaining anything, it prefers to provoke reflection.
The illustrations were made by István Lakatos, who was awarded an IBBY prize in 2011 for his own children's book.