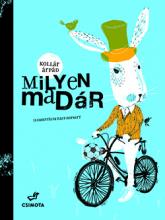 Out of the mouth of babes and in-depth analysis, child psychology and grownup psychology, or a simple, intent gaze at the world from above and from below, the book offers all of this at the same time. The poems that comprise it are reminiscent of prose, yet are bona fide poems. The subject of most of them leaves traditional children's topics behind to take readers of all ages into areas that will make them wonder why no one has treated these obvious problems before.
The volume is the taking of accounts through poetry. On the one hand, it offers an inventory of the world of children, the body, the objects they own, the things they like or dislike, their fictitious and real environment, their families and acts and, on the other, it is the depiction, through surprising metaphors, of a very special universe that exists in the fantasies of children as well as those grownups who have retained their childhood fantasies.
The poems are characterized by a certain inner hesitation, thereby placing the child's as yet wobbly world view into a brand new perspective, and through their special use of language, they bring to the surface mental processes that traditional poetic and syntactic structures are not sufficient to handle. This is what gives the poems in the book with their refreshing quality and sense of novelty.