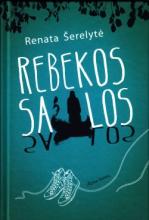 Renata Šerelytė (b. 1970) is a prose writer, poetess, playwright and literary critic.
"The islands of Rebecca" is the newest writer's work for teenagers, the Lithuanian IBBY section recognised it as the best book of the Year.
Rebecca, the protagonist of the novel, is sensible and spry fifteen-years-old girl, one of those girls, who can be bravely called perfectionist. She thrusts her way through life crushing all coming shoal. Until she lands up in a world, where there are no rules she knew… Rebeka is accidentally translocated into the secondary world of Islands which is partly realistic, partly surrealistic, rather inscrutable in the beginning. There are five islands in the secondary world: Island of School, Island of Mother, of Father, of Granny, of Little brother. Traveling among those islands Rebeca begins to understand better her true family life and intercourse. She learns to value senility, human dignity and honesty. The sense of empathy as well as other feelings breaks in her heart. This very modern and artistic novel for young adults is gripping, easy to read and mind-provocative.