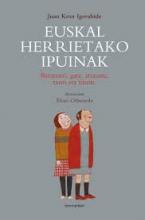 Title in English:
STORIES FROM BASQUE LANDS
This is a delightful collection of tales to read to today's children. It comprises stories written by Juan Kruz Igerabide in his charming style and collected in the Basque lands on each side of the Pyrenees. They include ones collected last century by Jose Maria Satrustegi in Navarre and by Joxe Miel Barandiaran and Joxe Arratibel in Gipuzkoa.
They are five tales collected from oral literature in Basque:"Garlic", "The Little Shoemaker", "The Little Bird's Egg", "The King and the Salt" and "The Miller's Dog and the Songbird".
As the author himself points out in the foreword, the stories we collect via the oral tradition live in the world, they move from one land to another in the mouths of storytellers, thus transcending frontiers and languages. That is how they are extended, abridged, merged with others and updated.
So in this book Igerabide also offers us a charming re-interpretation of the five tales passed down from mouth to mouth. As they are stories created orally by someone at some point and adapted for a second telling, he has also written them as if he had received them at home and then passed them on. They are written in modern Basque and are entirely appropriate and designed to be read out loud so that later whoever wishes can tell them in his/her own way.
Each story has a page illustrated by Elena Odriozola and which can be opened out, but we will have to produce all the other images internally, because, rather than depicting the thread of the stories, only the beams of a specific moment in each story have been represented by her.
What is more, her work will remind us of costumbrista scenes of a bygone age, as if they had been extracted from paintings by Aurelio Arteta, but in Odriozola's own style: with wide necks drawn in fine lines, round heads and sloping shoulders.
So Igerabide and Odriozola have ended up igniting other flames in these fireside stories collected in this book, because the transmission of stories of this type has virtually disappeared among today's parents and grandparents.