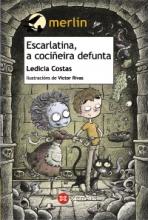 Roman wants to be a real chef. As his tenth birthday draws closer, on All Saints' Day, the festival of the dead, he asks his parents for a cooking course as a present. So in his very special day, he receives a huge scare with his very peculiar present: a coffin and a black envelope with the instructions to activate Escarlatina, a cook who passed away in the 19th century, and who's always in the company of Lady Horreur, a huge scary spider with a French accent. Abord the deadbus, all three new friends and Dodoto the cat will travel to the Underworld, where the dead live under the ruling of the tyrant Amanito.
A dozen delicious recipes, the tastiest from the world of the living and the dead, give way to each bite of this humorously macabre story, stimulating the reader's appetite and their curiosity for the world of cooking.
This book has been awarded the Spanish National Prize for Children's Literature 2015, the Neira Vilas Award for the Best Book of 2014, and was published as the winner of the 2014 Merlin Prize for Children's Literature. In 2016, it was included in IBBY's Honour List.