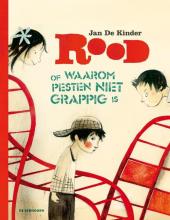 Title in English:
Red, or why bullying isn't funny
Toon is one of those people that starts blushing easily and for no particular reason. His peers pick up on this quickly and some of them start making fun of him for it. It starts with a bit of harmless banter, but the teasing soon becomes more aggressive. Toon wonders what he could do, but since he's afraid of Paul, one of the bullies, he decides not to undertake any action. But then someone else steps in for him...
This is an accomplished  picture book that helps to bring up a sensitive topic like bullying. The bullied, the bully, the bystanders: all the parts played in this kind of situation are depicted true to live. The illustrations provide a strong background and the colours used stress the different emotions that come up during the story.