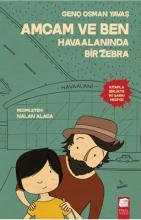 Title in English:
My Uncle and Me- A Zebra at the Airport
Publisher:
Final Kültür Sanat Yayınları
"I have an uncle. Did I mention him before? No?
Didn't I tell you about my lively uncle and his funny stories?
He is so amusing!
If you ask me, everybody should have such an uncle. But still you had better not believe every sentences of him!"
 
Funny stories of "a little bit crazy uncle" and his amusing behaviors from the eyes of his niece who loves him so much!