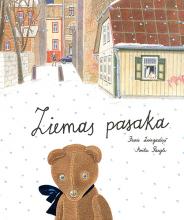 The story of 'Winter Fairytale' is set in Riga, in the neighbourhood of the Ziedoņdārzs park. A toy bear called Reinhold – or, as he refers to himself, Reinis – lives all by himself in an old derelict building. One day he is visited by a white cat – 'Just Cat,  and Reinis is no longer alone. The two of them keep house together, scare away unwelcome guests with the help of a mysterious 'Mr Ghost', save an uppity friend who gets stuck in a drainpipe, make a snowman and a snow pyramid and look forward to Christmas.
Thanks to the good-natured easy-to-read style, this fairytale lends itself well to reading aloud to children. There is also educational value to the book: it helps acquire new skills. The author's lively manner of writing, word play and love for neologisms stimulate the development of the young reader's own language.
The illustrations by artist Anita Paegle are very realistic and help the child become familiar with the cultural environment of the city. They can also encourage parents to suggest visiting and exploring the locations described and shown in the book together.