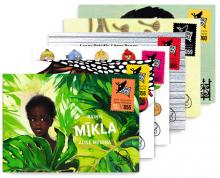 Title in English:
The Riddle; Bicki-buck books No. 55-60
The BICKI-BUCK series – a compilation of 100 Latvian children's poems. Each poem is printed in a separate little book; all of them share the design by the artists Rūta Briede and Artis Briedis, featuring a format well suited for a young child and the series logo: the curious horned BICKI-BUCK. In the series, poems once much loved by parents or grandparents as children are re-discovered by an artist and presented to the children of today in a completely new look. The books are numbered for more convenient collecting in home library.
The book's logo features the time when each poem was written: pre-1940; between 1940 and 1990; after 1990.
"Riddle me, riddle me this, my little baby: my mommy had a golden ball of wool…" The poem "The Riddle" by Rainis itself belongs to the golden collection of Latvian children's poetry. The answer to the riddle is still the same, but the illustrator lets us look for it in warm and faraway lands.