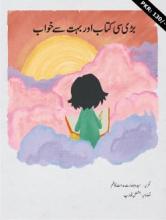 Title in English:
The Big Book and Many Dreams
Publisher:
Alif Laila Book Bus Society
The book centers around a young girl and her passion of connecting the world through stories. Her timidness disappears when she tells her rather big and intimidating uncle that despite his fear of being an author not allowing her to earn a decent living she would pursue her dream anyhow.
So she reads and reads, and then she writes. At first her stories gathered dust, the world was busy fighting. When too many had succumbed, peace was sought. A child came across the book of stories. She read them. Her mother read them to her students. Soon the world was reading them, stories of communication, collaboration, love, peace.
The language remained simple and lively, while the illustrations are sensitive and graceful.
For 6 and up.
Publisher's information: http://www.aliflaila.org.pk; aliflaila_lhr@yahoo.com.