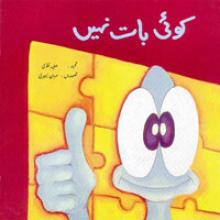 The book instills a spirit of acceptance. It says whether you're fat or skinny, small or big, or even gigantic, dark or fair, it's alright. Mistakes are inevitable, as is being left behind in a race, or not getting very good marks in exams. It's alright to cry sometimes, or to want to wear only the clothes that you like, sometimes you don't like home cooked food, and sometimes you prefer to be by yourself, and to wake up late on a holiday and it's alright. Sometimes your room becomes very messy and you become very naughty, but it's alright. Whatever you are, whatever you do, it's alright!
For 6 years and older.
Publisher's information: www.urdubooksforchildren.com or www.bookgroup.org.pk; info@bookgroup.org.pk.