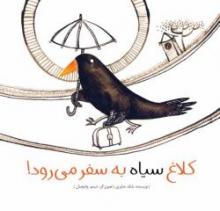 Title in English:
The black crow goes on a trip!
What do you need to take with you when you go on a trip? Is it a suitcase full of clothes?
Or is it canned food? How about a pair of sunglasses? Or maybe it is a pair of sneakers?
Now what do you think a crow will take with him when he goes on a trip? A suitcase?
Warm clothes? A flashlight? A bag? Definitely not. Don't even think of such things.
If you wish to know what crows need while travelling, come along and accompany our
black crow.
A beautifully illustrated book on the importance of friends.
For 4 years and older.
Publisher's information: www.tutibooks.ir; info@tutibooks.ir.