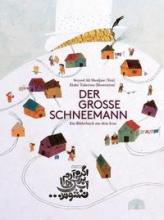 Title in English:
What If the Snowman Won't Melt?
In a small town, the kids try to build the biggest snowman that any one has ever seen!
After they finally finish the job, they invite their families and friends to come and see the biggest snowman that they have built.
The next day when people wake up, they find out that they all should be at the service of this big creature and obey whatever he demands…
Then when it comes the time for Spring to enter the town and the Sun to shine, the snowman resists …
The multi-layered picture book addresses the issues of power and powerlessness and explains them in a playful way for children. 
For ages 5 and up.
This bilingual story (Farsi-German) is published in Switserland, while the Farsi only edition was at first published by Neyestan Publishing in Iran.
Publisher's information: www.baobabbooks.ch; info@baobabbooks.ch.