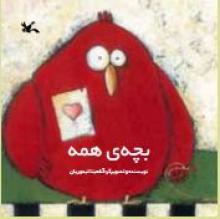 Left on its own, a large egg rocks back and forth.
Suddenly there is a crack and out pops a fat little chick. The chick is all alone in the world. The animals living nearby don't know what to do as they've never looked after a baby bird before. An unlikely assortment of foster parents takes over the job of trying to bring up 'Baby', as they call him, because he's everyone's baby. They don't always get it right but they do love him.
This funny story, full of understatements, about the importance of parental love and of growing up has humorous illustrations that show all the different animals as they attempt to care for Baby. 
For 5 years and older.
Publisher's information: www.kanoonintl.com or www.kanoonparvaresh.com; info@kanoonparvaresh.com