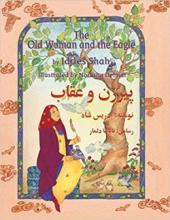 Title in English:
The Old Woman and the Eagle
In this amusing story, an old woman encounters an eagle for the first time. Perplexed by its unfamiliar appearance, she decides to change it to suit her own ideas of what a bird should look like. Her efforts mirror a common pattern of human thought: altering the unfamiliar to make it acceptable.
In spite of  her, the bird knows he's an eagle, and  luckily meets another one who helps him look more like himself again. This story helps children build self-­‐ confidence and prepares them to take on new experiences with an open, but critical, mind. An early version of this story can be found in the Mathnavi by the renowned Afghan poet Maulana Jalaluddin Rumi. 
This is a bilingual book in Dari and English.
For 6 years and older.
Publisher's information: www.hoopoebooks.com; hoopoebooks@aol.com.