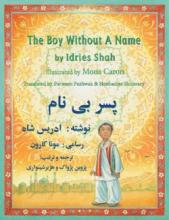 A boy seeks and eventually finds his own name when he and his friend meet a Wise Man. The Wise Man also shows how to discard a dream they don't want and exchange it for a new and wonderful one. This story can provide a tool by which children can overcome negative experiences and feelings; it also introduces them to the idea that it takes patience and resolve to achieve one's goals in life. 
This is a bilingual book in Dari and English.
For 8 years and older.
Publisher's information: www.hoopoebooks.com; hoopoebooks@aol.com.