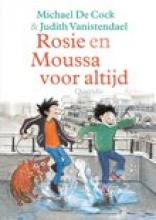 Title in English:
Rosie and Moussa for ever
'Rosie and Moussa for ever' is an omnibus containing all Rosie and Moussa stories: 'Rosie and Moussa','The Letter from Dad', 'Best Friends Forever' and 'Rosie and Moussa's Secret',
When Rosie goes to live in a new flat with her mother, she quickly makes friends with the boy on the floor above, Moussa, and with the elderly Mrs Hemelrijk. Their friendship, and the daily life of children in a big city, makes for small and intimate stories, written with beauty and warmth and without any false sentiment.
With his well-chosen images and lively dialogues, De Cock creates enchanting characters. The subtle humour and gentle observations make this book a true gem. De Cock forms an excellent team with Judith Vanistendael, whose illustrations sometimes lead a fascinating life of their own. Her often humorous pictures are natural, subtle, perceptive and expressive.
7+