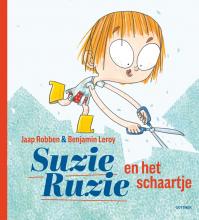 Title in English:
Suzie Doozie and the Scissors
Suzie finds an insatiable pair of scissors that craves girls' hair. And before you know it, it has cut everything in its path. Everything and everyone, in the house and outside, have been touched – even her faithful little friend Dog.
In this series, Flemish illustrator Benjamin Leroy's whirling illustrations are closely linked to Dutch author Jaap Robben's text. The duo write and illustrate with a lot of empathy and love for their headstrong heroine with boundless energy and imagination. Despite Suzie's pranks, the reader feels nothing but sympathy for this disarming little character with her huge, expressive eyes.
3+