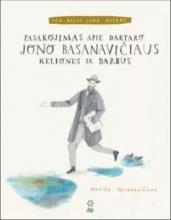 Title in English:
Through Puddles to the Dawn
Picture book about one of the most prominent men in Lithuanian history - Jonas Basanavičius; strenous and caring human, traveller, explorer, scientist and storyteller who dreamt about Lithuania's independence and achieved it. Basanavicius lived in Bulgaria for more than 20 years, where he practiced medicine, was a prominent public figure, founded hospitals and had Bulgarian citizenship.
Monika Vaicenavičienė was selected in the Bologna Illustration Exhibition in 2018.