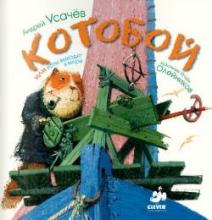 Publisher:
Clever [LLC Clever Media Group»]
Poet Andrey Usachev and artist Igor Oleynikov have formed a wonderful tandem. We remember the fantastic stories about aviation and seafaring, and the fairy-tale about Ivan the Fool, and The Lullaby Book, and The Orange Camel… However, the short story about seafaring cats is like a new lease of life. The story is ironic and with a pinch of sadness, it would have been good by itself. However, the illustrations widen its perspective. Characters and landscapes, described by Usachev in two words, with the help of Oleynikov's illustrations transform into animated and fairy-tale creatures, seas and lands.
The cover is glossy, and the endleaves seem to be made of sackcloth with patches. We open the book and find ourselves in Pomor village Catma, abandoned by men and dogs, and get to meet its current inhabitants. «It is known that the dog is devoted to the man, and the cat – to the house». How can the cat population survive – not homeless, but somehow castaway? Should they steal and beg, living from hand to mouth? Should they try to catch fish? «Cats like fish. But they don't like water». Venturesome Catauskas and reckless Afonya (both of them cats) equip a frail boat — to go whaling, not fishing. Sails made of sheets, a harpoon made of a ski pole — the cats are going to the White Sea. No-nonsense sea adventures await them. There are only two of them, seafaring cats; no help is within reach. Only courageous little mouse Shuster («the nimble one») will be able to save them in a difficult moment. They will not kill a whale and will even make an oath not to hunt it ever in their lives, «because whales are our brothers».
A praiseworthy decision. Cats are our bothers, and mice are our brothers or sisters…
The fairy-tale Cat Hunter, or Cats Go to Sea laid the foundation for the popular cycle of books about the adventures of Catauskas and Afonya enthusiastically received by the young readers.