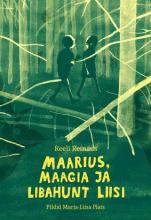 Title in English:
Marius, Magic, and Lisa the Werewolf
Twelve-year-old Marius and his older brother Martin recently moved to the countryside with their parents. Martin, who is very sociable, has already found a lot of friends, but Marius just can't seem to fit in. Yet when the boy meets Lisa, a loner, at school, the adventures begin with no further ado. Before long, the boy's previous understandings of reality and the fantasy world acquire a new, fascinating dimension.
Reeli Reinaus (1977) is a folklorist and writer for children and youth.
Marja-Liisa Plats (1984) is an illustrator, graphic designer, photographer, and singer.