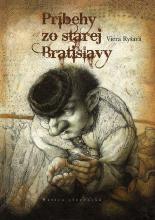 Title in English:
Stories from the old Bratislava
Illustrator:
Zuzana Bočkayová-Bruncková
Fifteen historical stories draw you in different moments of the history of our capital city. You pass through various historical periods, from the early Middle Ages to the recent past. For example, you visit the coronation of Maria Theresa. The stories from the old Bratislava are read in one breath, saturated with interesting facts from Bratislava's history. The book won the award as The Most Beautiful Children's Book of the Winter 2011.