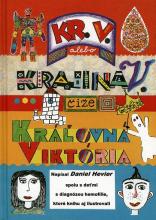 Title in English:
CO.V. or COUNTRY V., or THE QUEEN VICTORIA
Illustrator:
Martina Múdra and children with hemophilia
The title of the book originaly is a cryptogram of Slovak word "krv", what means the blood. Daniel Hevier, the author of the book used the word game to express a high value of life and also symbolically, the high value of people fighting in their life with specific diagnosis - hemophilia.  
This unusual book was formed by the collaboration of the author and the children with haemophilia. The reader gets to know the real world (school environment, bullying, hospital), but also with a fairy-tale world, with the same struggle between good and evil - between forces that want to turn human blood to ice and Queen Victoria, standing on the right side. The interesting name comes from the letter "V", a reference to the victory, since the Queen Victoria was in the story the first haemophiliac. The story ends on an optimistic note, the victory of good over evil. The book won the award as The Best Children's Book of the Winter 2012.