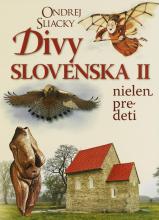 Title in English:
The Wonders of Slovakia II. Not Only for Children
Publisher:
Vydavateľstvo Matice slovenskej
An open sequel of the "adventurous homeland study" provides us with numerous new stories and unique information, which highlight real, though often insufficiently known, wonders around us. The author narrates the stories of: the Olympic champion Ján Zachara, the legendary pilot Otto Smik, the forgotten ingenious inventor Johann Wolfgang von Kempelen, who arouse surprise all around the world with his speaking machine, the flying monk Cyprian, the inventor of a parachute, the mystery of the church of the Grater Moravian origin in Holíč. The book alternates the scholastic homeland study in a catchy way and it invites us to get to know our country by experience. The book was awarded The Best Children's Book of the Autumn 2015.