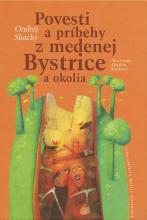 Title in English:
The Legends and Stories of the Copper Banská Bystrica and its Surroundings
Publisher:
Vydavateľstvo Matice slovenskej
The book consists of authentic legends and stories related to Banská Bystrica, the Copper city, that were collected by the storyteller and collector of legends Ondrej Sliacky. The author does not make reference only to a spectrum of issues and topics, that are related to the Banská Bystrica Region. He leads the reader to gain experience and to become personally connected with the content.  The author applies narrative contexts and he depicts setting abundantly even in this authentic historical topic. The reader can feel deeply on the inside the main direction, life strategy, and how to protect the precious personal space.  The book was awarded The Best Children's Book of the Winter 2016.