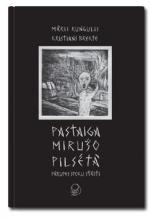 Title in English:
A walk in the city of dead
Sixth-grade pupils are given a task by their teacher for the school's project week: collecting stories of events and people of their native town. A group of classmates pick a subject for a joint project: mystical and ghostly stories. The children gather at one of the classmates' home to rehearse the presentation of the project, exchanging the newfound stories.
The combination of humour and fear in this book conforms to a child's psychological need to feel, enact and then expel from consciousness their own existential fear through these stories. The illustrator Kristians Brekte in his black-and-white drawings offers a visual interpretation of the image of fear, using an approach that is very popular in children's folklore: combining the horrifying and the funny.
The writer Māris Rungulis has been crisscrossing the country collecting the typical horror and joke stories so popular among children ‒ short, concentrated anecdotic outlines of stories, which he has now, in the 30 episodes of the book, expanded and merged together, filled out with time- and place-characterising details, incorporating associations with similar events and his own childhood memories, revealing glimpses of the storytellers' personalities and relationships.