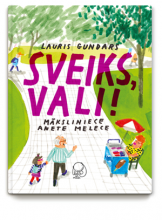 This book is about Whale and Buzzfly – these are the nicknames grandfather and granddaughter have given to each other. Whale takes care of Buzzfly while her parents are at work – which is almost always. They spend a lot of time together, but there is one question bugging Buzzfly: why does Whale never says hello to others, even her friend's grandmother whom they meet almost every day? They have a long discussion about the importance of greeting others and Whale has to give in – Buzzfly is right and Whale should start to say hello, but he is just too shy. It is Buzzfly's responsibility now to teach Whale how to greet others, but it is not an easy thing to do: they have to start with greeting cats, cars and houses before Whale is brave enough to say hello to another person. His first try turns out quite bad, there is even police involved in this accident. Whale and Buzzfly have a fight but at the end everyone is happy and even journalists are surprised by this new trend – everyone is saying hello to everyone.
Whale and Buzzfly are beautifully shaped characters that are easy to believe in and Lauris Gundars is great at portraying their complex yet loving relationship. Still this is a book about a very serious topic – alienation people feel in big cities, especially old people. Yet one can fight it – with just a little bit of bravery. The hardest thing to admit is that sometimes children may actually know better than adults.
Lauris Gundars is a playwright, screenwriter and theater director who has educated many generations of playwrights and founded "Teātris TT" - one of leading Latvian independent theaters. He made his debut in children literature in 2008, "Hello, Whale!" is his second book for children.