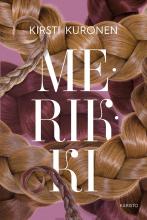 Merikki tells a sad and beautiful tale of a broken friendship, of growing apart and finding your own path.
Two girls, Meri and Ruusu, have known each other close to forever, being inseparatable soulmates. It all began with playing with their Barbie dolls and carried on with their shared braid-themed vlog. Now they are a couple of 14-year-olds. After a summer holiday nothing is as it used to: Ruusu no longer wants to make braid videos and calls Meri tedious. Meri and Ruusu are very different afterall: Meri likes routines and order and has a hard time taking anything casually. Ruusu is more living-in-the-moment, acting with feeling and being cheerful and spontaneous.
Short lines of verse novel and intimate text take the reader straight into the characters head, leaving some ambiguity between the lines and giving the reader a chance to perceive and reflect their own lives to those of the two girls.