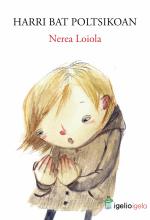 It is a long story with a divided parts and a few illustrations. Although the story is realistic, it has a magical touch. Self-esteem can be considered a major issue. The narrator attempts to seek the complicity of the reader, often by directly speaking to her.
Xana doesn't feel comfortable with herself. She carries a bad turn. She believes that everyone else is doing better than herself. One day, she finds a special stone in his pocket. She believes that, with the help of the stone she can gets everything she wishes. Based on this, the writer creates a realistic adventure story. Having an optimistic outlook and role model, the importance of  self development and the importance of facing difficulties arise in the background.
The illustrator has created a very dynamic illustrations dominated by the ocher tone, mixing various techniques.