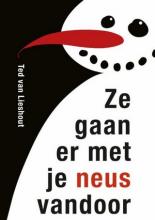 Title in English:
They Run Off With Your Nose
The letters have been side-lined. The poet has written only one poem: an allegory, about a snowman who is robbed of his nose by an attractive rabbit. And then: nothing. 'We're all ready for a new poetry collection. Come on, poet!' But he has a broken heart, and so the unemployed letters decide to do it themselves.
This book by Ted van Lieshout is not a collection of separate poems, but a conceptual work of art with one storyline running through it, which culminates in a typographical war – because the letters' attempt to make poetry results in conflict. The red letters, who were supposed to bring reconciliation, stage a hostile takeover of the book.
This is a hilarious and – when the war breaks out and sentences, words and letters fly over the page – visually stunning book. At first it appears to be about algorithms taking over the work of humans, but it later develops into a completely original, humorous and sensitive story about writer's block and about the First World War.
"A magnificent meta-fictional game, in which Van Lieshout playfully and effectively demonstrates how every text is a linguistic construction, with out imagination as its unshakable foundation" 
(From a review by the newspaper NRC Handelsblad)
(From http://www.letterenfonds.nl/en/book/1251/they-run-off-with-your-nose)
Winner of the Boekensleutel (Book Key), an infrequently awarded prize for books that stand out due to their genre, techniques used or for reasons that aren't traditionally covered by other literary awards (From Wikipedia).