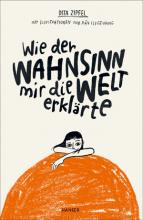 Title in English:
How Madness Explained the World to Me
Walking the dog, getting 20 Euros per hour – sounds perfect for almost 13 year old Lucie Schmurrer, who needs money to move out as soon as possible. She really wants the job. But what she didn´t expect was that the dogs owner Mr. Klinge doesn´t so much want a dogwalker but a ghostwriter for his weird cookbook. He is crazy somehow, following his own Klinge-world logic. For outgoing Lucie that´s no reason to quit. She is used to insanity already: her mother´s changing love relationships, the own first love or the jungle of relationships in school, where constrictors are caged with snow hares.
For an innovative book-recipe: take a quirky plot, fresh and straight language, strong characters, season the mixture with a big portion of humor and serve it together with perfectly matching illustrations. Consider it done – you got an outstanding, unbelievable witty story, wrapped in a harmonious illustrated book. A lot of reading fun!