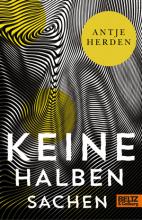 Robin´s teenager life is boring and lonely. But then Leo, a new classmate, walks into his life. He is everything Robin longs to be: confident and tempting.
Robin gets introduced to a new part of life: smoking cigarettes and weed as well as drinking. Soon he drifts into the world of drugs and wild parties. More and more Robin´s reality glides into a parallel world. After a tough LSD trip and an argument with his mother, intoxicated Robin falls out of a window, gets injured badly and struggles for life in hospital. His hope that his new best friend Leo will visit him fades away day by day.
Antje Herden manages to put Robin´s greed for belonging and excitement into words. Her absorbing tale doesn´t downplay the trip and paints it frightening real. Uncommon You-addressing irritates and keeps its secret until the very end. A literary trip, upsetting and fascinating.