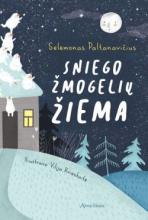 Title in English:
The Winter of Tiny Snow People
It is an exceptionally warm and endearing collection of short tales about the little adventures and everyday
life of Tiny Snow People. Tiny Snow People are playful creatures resembling children. They appear with
snow and melt with snow. Their life is mostly games and admiring the world. Everything is a cause of joy for
them, even the things we don't like – the howling dog, and the whiteness of snow... They also have some
big questions about life and death, the cycle of life and year: eventually spring will come and they will
melt... and then what?
This book received the Pranas Mašiotas award from IBBY Lithuania for the best children and young adult
book in 2019.