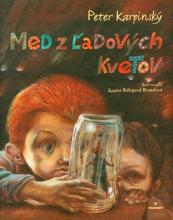 Illustrator:
Zuzana Bočkayová-Bruncková
An illustrated fairy-tale book about two schoolboys Matthew and Richard. They do not want to visit their Grandpa. They would rather spend the Christmas holidays somewhere in a luxury hotel or with their computer games. The Grandpa lives in behind-the-times conditions "far from civilization." He does not even have electricity. The plot is set in the period of Christmas, and thus the atmosphere full of miracles and fantasy is intensified.  The story deals with the conflict between the old world and the current modern world. It is written in an adventurous style. Although the boys are technically proficient, they are awkward in knowing old tales and in respecting certain healthy human principles. They recklessly interfere with the passage of time, and release the Christmas star sooner. The journey to find the lost star and the miraculous taste of the ice flower honey is a symbolic initiation path of today's man towards the wisdom of life and eternally renewed hope.
The book was awarded The Most Beautiful Children's Book and The Best Children's Book of the Autumn 2019 and the part of the Winning Collection in the Competition The Most Beautiful Children's Book of Slovakia in 2019.