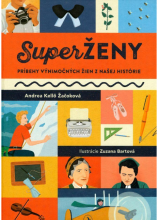 Publisher:
Vydavateľstvo SLOVART, spol. s.r.o.
50 stories of brave and active women from our history, who were not afraid to walk their own path. The book offers stories of 50 exceptional women from different time periods and social classes. They all did something significant that affected the lives of other people or society. Personalities from the field of science, politics and art are included. Their stories are told in a sober, unpathetic but even more impressive style, which is great in the way that it serves the content.
The book was awarded The Best Children's Book of the Summer 2019.