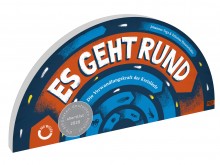 Title in English:
Round and round. The transformative power of cycles
Illustrator:
Felicitas Horstschäfer and Johannes Vogt
In nature and technology, cycles are a basic principle. Perceiving the sometimes complex interrelationships, the recurring structures and understanding their changeability is not always easy. With lightness Johannes Vogt and Felicitas Horstschäfer explain these processes to younger readers. The highlight is undoubtedly the design: Here, cycles are presented in a book that, when opened, is itself circular. Nine different cycles are presented on sturdy cardboard, which, in combination with the special format, invites you to rotate and sensually perceive – from time of day and season, food and nutrient cycles to reproduction, reusable bottles and recycled paper. Concise questions introduce brief explanatory texts for the individual sections, which are formulated close to the child՚s world. Their visual design is rounded off by the pointed use of spot colors in the otherwise blue-gray images. This title is nominated for the 2021 German Children՚s Literature Award.