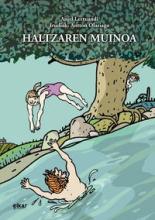 The protagonist of this adventure novel is a tree that lives on a hill by the river, a tree that wants to know the world. And, as we all know, the tree cannot move from where it is. The book is divided into 96 chapters of one page, and in the first parts we shall read what the tree thinks, how it feels, who walks around it.
The writer, with great skill, causes a flood and a stream of water knock down the tree which flows over the river. That´s when the real adventure of the alder begins.
This book won the 2021 Euskadi Prize for Children's and Young People's Literature.