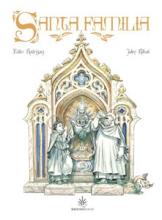 Publisher:
Ikastolen Elkartea/Xabiroi
Julen Ribas basque sketcher draws wonderfully the three protagonists of this comic: the couple Sorkunde and Teodoro and their daughter Nora. Sorkunde is a basque woman, she´s a dietitian and a catechist. Teodoro is originally a Guinean, he´s a lazy and selfish electrician who dreams on being an engineer. Nora is a teenager who is living a crucial moment in her live, she feels lost. They also have a dog.
Nora has a secret, she has kept it for a long time, but she can´t keep it any more and, like most of the teenagers, she can´t stand her parents any more. Thus the family, which previously seemed to be stable and inseparable, will be broken. Everyone will have to find his place in the new state, but the thread which binds them will hardly break.
Adolescence and parenthood are the two main axles of the book. The story is composed of humor, irony and a touch of cunning by writer Eider Rodríguez and illustrator Julen Ribas. Teenagers and parents will see themselves reflected in various situations.
Eider Rodríguez received the Children´s and Young Literature Euskadi Prize for this book.